Merseyside Police chief Jon Murphy's vow on gun crime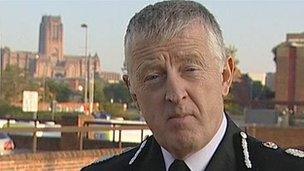 The chief constable of Merseyside Police has vowed to tackle gun crime, after eight shooting incidents in the region in nine days.
Jon Murphy is lobbying the government for tighter border controls to cut down on the supply of weapons and wants tougher punishments for offenders.
He has met with local councils and other agencies to discuss how they can fight gun crime together.
Mr Murphy said he wants to change the culture of young people who carry guns.
Merseyside Police said the chief constable had already met representatives from each of the area's five local authorities, as well as other partner organisations, including the Crown Prosecution Service, Courts Service, Mersey Fire and Rescue Service and the prisons.
Mr Murphy said work already done with those bodies in north Liverpool and Knowsley had had an "overwhelming impact" on gun crime.
And he praised the work of the force's Matrix team, made up of detectives and officers who target gun crime offenders.
"There's also a vital part to play in dismantling the illegal importation and supply of weapons into this country," he said.
"We need support nationally to tighten our borders and prevent weapons from coming into the UK.
"Merseyside is not unique in the problems we encounter and there needs to be a national commitment to ridding our streets of guns."
His words come after an unprecedented number of shootings at the end of April, non of which were fatal.
Jackie Harris, Knowsley Council's cabinet member for community safety and social inclusion, said tackling gun crime in her area remained a high priority.
"We intend to build on some of the exemplary practices we have employed in the last few years that have yielded some excellent results, including tough enforcement, preventing young people from becoming involved, and rehabilitating individuals who have shown a real commitment to changing behaviour.
"We are fully supportive of the chief constable's refresh of this strategy and fully endorse that a partnership approach is required."
Related Internet Links
The BBC is not responsible for the content of external sites.