Ellesmere Port car workers: Astra deal 'lifts cloud'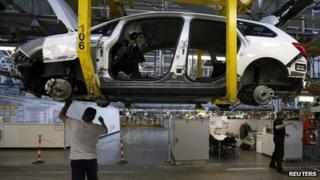 Workers at a Cheshire car factory under threat of closure spoke of their relief and jubilation after the owner announced a deal to build the new Vauxhall Astra.
General Motors (GM) said it would invest £125m in the Vauxhall factory in Ellesmere Port and spend about £1bn in the UK component sector.
It means the car factory will build at least 160,000 Astra cars a year, in a deal that secures the future of the plant and protects thousands of jobs.
Supply chain worker Mike Farley, 35, from Prenton, Wirral, said everyone was "sky high" at the plant.
"Instead of shutting the plant down it means we are guaranteed work until 2020.
"There had been a cloud over everyone for the last six months and that had lifted. It has taken the pressure off everyone.
"We are all really happy with the agreement."
'Motivated workforce'
In March, many analysts feared that with GM's European unit sustaining heavy losses, Ellesmere Port would close.
The deal to make the new Astra followed a vote by more than 2,100 Vauxhall staff in favour of a new pay and conditions deal.
The plant will now go to three-shift working with more than 700 new staff being taken on.
Assistant plant manager Paul Gledhill praised the workforce for their commitment and agreeing to more flexible working practices.
"We had been expecting bad news after rumours in December.
"Credit to the workforce, they remained motivated and it made a difference.
"Over 90% voted for plant flexibility, meaning that the length of working week will extend from 37 to 40 hours, we will introduce a third shift and [stay open] for 51 weeks a year rather than 46.
Mr Gledhill, 48, who has two sons working at the plant, said it was "about making the plant efficient".
'Best in Europe'
Production of the new Astra will begin at the Cheshire plant in 2015 and continue until at least 2020.
John Fetherston of the Unite union said the deal was a "saviour" for the town.
"If we hadn't got the new Astra, there would have been no Ellesmere Port.
"But we won the bid, we are building it, and now we want to build the next Astra and the Astra after that in volumes that make sure that we have got a viable future."
Paul Hannon, 48, from Rock Ferry, Wirral, has been a team leader at the plant for 16 years. He said it was "fantastic news".
"It's a great place to work. It means security and we deserve it because it is the best plant in Europe."
He added: "It will take me to retirement so I am made up.
"It's great news for youngsters starting out as there will be opportunities here now with work being granted for the next eight years.
"No-one makes better than the British."
Barbara Murray, 36, from New Ferry, Wirral, has been working at the factory for 14 years.
"It's a great place to work. I have two young children and it's good to know I will be able to keep supporting them.
"It's worrying when you read the news about the plant closing but I can relax now I know we are OK."
The plant celebrates its 50th year of production this year. When it first opened in 1962, it had 12,500 staff.