Sefton children design jubilee knickers fit for a queen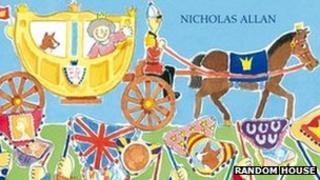 Schoolchildren in Sefton are designing paper knickers as part of a competition to mark the Queen's Diamond Jubilee in June.
The children, inspired by Nicholas Allan's book The Queen's Knickers, have been working with the author to come up with ideas.
The finished creations will be judged by Mr Allan and used as bunting for jubilee celebrations in Formby Village.
He said he was "pleased" he had inspired children to be creative.
He said: "I thought it would be very interesting to see what the children could come up with.
'Funny things'
"I'm pleased that as a book, it has done a lot to encourage children to experiment with colours and paints.
"I'm looking for funny things. Something really quirky that you wouldn't expect to see on a pair of knickers."
Tony Higginson from Formby Books, who is running the competition, said: "It is a real treat for us to get so many children enthusiastic about a book.
"And to actually have the the author and illustrator of the book here is huge."
The competition will be judged at 16:00 BST at Formby Books, Formby Village.