Liverpool's Light Night art festival returns to city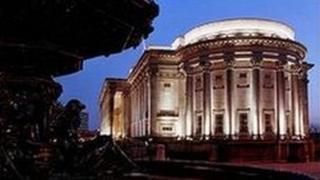 The annual evening arts and culture festival Light Night returns to Liverpool on Friday.
The one night event will see more than 50 museums and galleries in the city stay open late to encourage people to explore local culture.
The festival offers over 70 free events and is designed to help people "rediscover" their city.
Charlotte Corrie, Light Night co-ordinator, said: "We want people to do something different on a Friday night."
Events include exhibitions, theatre, open studios, walks and tours, musical performances and the festival's first street market on Bold Street.
"Light Night is a one-night festival which will see the city will be unlock its doors and stay up late.
"We want people to rediscover their city, participate and get stuck in. There is something for everyone," said Ms Corrie.
The festival is part the European Museums at Night initiative to promote art, culture and heritage.