Liverpool to get 'cleaner, greener' city centre buses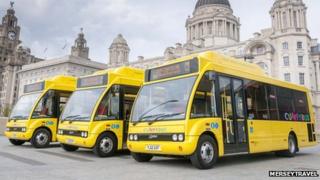 A fleet of "cleaner, greener" buses will take to Liverpool's streets as part of the city transport authority's drive to be more eco-friendly.
The 13 hybrid buses, bought by Merseytravel and operators Cumfybus using a grant from the Department for Transport, will run in the city centre.
Merseytravel chair Mark Dowd, said the buses would help to provide "more sustainable transport in the region".
He added they were crucial to "improving air quality in the city".
The low-carbon-emission buses will run across Liverpool's City Link routes, which operate between the city's shopping centres, stations and tourist attractions, by the end of May.
A Merseytravel spokesman said they would "reduce emissions of local air pollutants and carbon dioxide by at least 30 percent compared to conventional vehicles".
The vehicles were purchased using a £1.2m grant from the government department's £30m Green Bus Fund.
The fund provides money for bus operators and councils in England towards the costs of buying low-carbon buses.