Double celebration for Liverpool's new Lord Mayor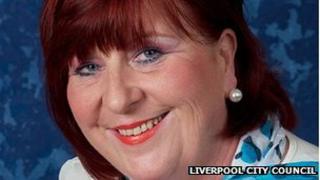 Liverpool's new Lord Mayor will enjoy a double celebration later when she is sworn in.
Sharon Sullivan will also celebrate her 55th birthday with twin sister Sheila at the mayor making.
The ceremony, at Liverpool Town Hall, will be the first time councillors have met since voters chose Labour's Joe Anderson as directly-elected mayor.
Mr Anderson's role is a political post while Mrs Sullivan's is purely ceremonial.
Docker's daughter Mrs Sullivan has chosen charities supporting ex-Merchant Navy seamen and dock workers, along with the Sea Cadets, as three of the four good causes she will support in her year of office.
"All the men in my family, including my father, worked on the docks and travelled out to sea and I think there needs to be more acknowledgement of the huge contribution dock workers and merchant seamen and women have made to our city," she said.
Along with her sister and her brother Peter, she is a carer for her mother Mary and has chosen Carers as her fourth charity.
The Labour councillor, who represents Central Ward and has lived all of her life in the Scotland Road area, will be aided during her year as Lord Mayor by her 17-year-old son, Harry, as her husband, Jack, died two years ago.
Mr Anderson will also sign a specially commissioned scroll on Wednesday accepting his new position.