Liverpool mayor Joe Anderson to take £66,000 salary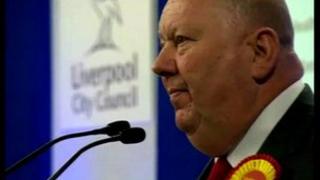 Councillors in Liverpool have set a salary of nearly £80,000 a year for newly elected mayor Joe Anderson.
But Mr Anderson will only take £66,000 - he was previously paid £52,000 as leader of the council.
His first full council meeting as mayor backed the £79,500 figure set by an independent panel. There is no national salary for directly elected mayors.
Labour mayor Mr Anderson also kept the nine-member cabinet he had as Labour council leader.
The suggestion that Mr Anderson be paid £79,500 was made by an independent panel, made up of six people not connected to the council, based on the responsibilities of the new post.
'Visible leadership'
Chairman of the independent panel David James said there were big differences between Mr Anderson's role as leader of Liverpool City Council and the new one as directly elected mayor.
He said: "It brings with it... more responsibility because the new mayor has been elected by the whole of the city.
"This gives him a mandate to speak for the entire city, not just at home but also abroad.
"This brings with it a duty to deliver strong, visible leadership and be an ambassador for Liverpool.
"We have also noted that the mayor of Liverpool has new powers and responsibilities negotiated as part of the City Deal.
"This makes it the second most powerful post behind that of the mayor of London and sets it apart from other directly elected mayors in England."
The council's annual general meeting, which is the first since the city elected a mayor, took place at the town hall.
During the meeting the new Lord Mayor, Sharon Sullivan, was also sworn in.