Olympic torch: Wheelchair sports coach on Saltney route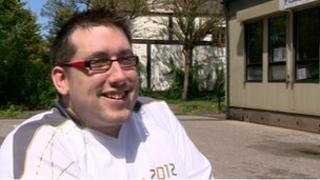 Ian Powell has always lived an action packed life.
From sky diving to fundraising, teaching to sports coaching - he was even once Santa at Chester Zoo.
Known by as his friends and family as someone who "brightens the room when he wheels in" the 26-year-old from Chester has never let Spina Bifida stop him living life to the full.
During his life he has been given a fifty-fifty chance of dying and been on a life support machine in intensive care on two occasions.
But Mr Powell still found the time to coach a junior wheelchair basketball team, work as a classroom assistant and has raised more than £1,500 for disability centre Dial House.
'Uplifting'
He was nominated to carry the Olympic torch by his mum who described him as "always having a massive grin on his face".
She said: "His strength of character is admirable, uplifting and inspiring.
"He sets an example to us all in respect of getting on with it."
Mr Powell, who has a younger sister and brother, moved out of the family home over two years ago and describes himself as "living a normal life with a disability".
He said: "My mum and dad always encouraged me to do whatever I wanted and my brother and sister always treated me like any older brother would be treated.
"I'm pretty much the same as everyone. I get on with everything - I just like living my life."
Most recently Ian has worked at Dial House providing support and guidance for people living with disabilities.
He said: "Dial House is a vital service. It helps people get out and about and visit friends.
"If people can't get out they end up staying at home and that's not good for them. Dial House gives them their independence."
Mr Powell will carry the Olympic torch through Saltney, near Chester, on Tuesday
He said: "It is a great honour to get picked and is a great privilege. It is massive and I am very grateful."