Worshippers take part in Liverpool's Two Cathedrals Service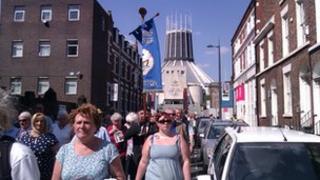 Thousands of Christians have taken to the streets of Liverpool for the Two Cathedrals Service.
They were marking the Christian feast of Pentecost by starting at the Roman Catholic Metropolitan Cathedral.
Halfway through the service the congregation left the cathedral and marched half a mile down Hope Street to the city's Anglican Cathedral.
The bi-annual service signifies the links between the different denominations.
This year marks 30 years since the first Two Cathedrals service, which was held when the late Pope John Paul II visited Liverpool.
It is also 45 years since the official opening of Liverpool Metropolitan Cathedral.