HMS Elizabeth flight decks set sail from Cammell Laird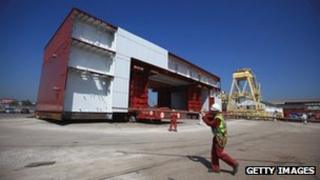 Five large sections of flight deck for aircraft carrier HMS Queen Elizabeth have left Cammell Laird shipyard in Birkenhead for Scotland.
The parts, which weigh more than 3,500 tonnes in total, will take five days to sail to Rosyth where the aircraft carrier is being assembled.
Construction of the decks, known as Centre Blocks 02 (CB02), is part of a £44m project for Cammell Laird.
The shipyard is due to complete and deliver more parts later in the year.
These flight deck sections have been loaded on to barges which left Wirral for the east coast of Scotland at 16:00 BST.
'Economic growth'
Cammell Laird Chief Executive John Syvret said the company was proud to be delivering the first phase of the £44m project on time and paid tribute to the staff and suppliers who had worked to deliver the flight decks.
He said the construction hall was "one of the biggest and best equipped in Europe", adding that 80 apprentices had been given "invaluable experience" by the project.
"As our future workforce it is vital we continue to invest in young people, giving them the skills our industry, and our region, needs to drive long-term economic growth," said Mr Syvret.
Parts for HMS Queen Elizabeth have been built at five separate UK shipyards.
It is being delivered, along with HMS Prince of Wales, by the Aircraft Carrier Alliance, a partnership between BAE Systems, Thales UK, Babcock and the UK Ministry of Defence.
Each 65,000 tonne aircraft carrier will provide the armed forces with a four-acre military operating base which can be deployed worldwide.