Olympic torch: Cancer doctor Minaxi Desai ready for relay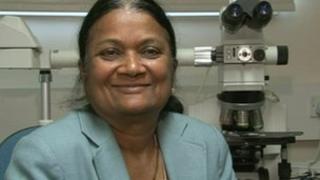 A doctor who helps to raise cancer awareness in minority communities across Manchester will carry the Olympic torch through Hindley on Thursday.
Dr Minaxi Desai has been described as "dedicated" and an "inspiration" by the members of the Jain Community who nominated her.
She is a specialist in cervical and breast cancer based at the Manchester Royal Infirmary (MRI).
Dr Desai regularly volunteers to give practical support and care for women of Indian, Pakistani, Afro-Caribbean, Nepalese and Chinese origins affected by the disease.
She also works in local communities to raise awareness cervical and breast screening.
Dr Desai, 61, moved to the UK from India as a newly qualified doctor, when she was 23-years-old.
She says she chose the UK for the high standard of training offered and has spent over 20 years working to improve screening programmes for cervical cancer in the UK.
She said: "I wanted to spread my knowledge and help the health profession and women to understand to come for [cervical] screening.
"My drive is coming from India and the problems I saw as a young doctor.
"I want to use the knowledge that I have received to be a help.
"I have been working for women in this country with the good education I gained here."
Dr Desai was awarded a CBE in 2011 for services to women's healthcare and is at the forefront of cervical cancer research at the MRI.
She said carrying the Olympic torch is "a once in a lifetime chance".
"I am very excited," she said. "To be able to do this is something that I never dreamt of."