Olympic torch: Noah's Ark's Jane Campbell carries torch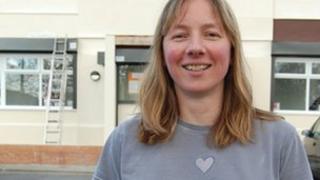 A woman who helped transform a derelict Liverpool pub into a thriving community centre will carry the Olympic torch on Friday.
Jane Campbell, 36, has spent the last five years fundraising to create the Noah's Ark Centre in Speke - one of the most deprived areas of the UK.
Ms Campbell helped to raise about £500,000 for the project and was nominated by members of the centre who said she had "stamina and energy to rival any Olympic athlete".
When the Noah's Ark pub in Speke shut in the mid 2000s, Ms Campbell, a member of the local Baptist Church, saw an opportunity.
She said: "We wanted to protect this much loved building and keep it open for the people of Speke as a church and centre serving the local community.
"People really missed the family feel that was here from years ago and wanted to get that back again."
Ms Campbell set about raising the funds and in 2009 the Speke Baptist Church bought the building.
Three years later, the Noah's Ark Centre opened featuring a cafe, parents' hub and a weekly senior lunch club.
Ms Campbell added: "People are coming together and it is brilliant. The whole team have worked so hard to get the Noah's Ark going.
"The lunch club is a time for people to get together, have a laugh and be out of the house. We go on holiday every year - it is lots of fun."
The mother-of-four will carry the torch through Knowsley Safari Park on Friday and has been training on the school run.
She said: "I've been running to school this last week trying to get fit.
"I'll be running through Knowsley Safari Park - past the elephants and giraffes.
"I'm not scared of the animals - I'm more scared of dropping it or setting my hair alight.
"I wish everyone was running with me. It is not about me - I'm carrying the torch for Speke."