Shafilea Ahmed: Sister denies 'making up' murder story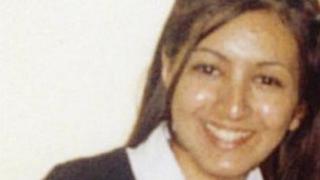 Shafilea Ahmed's sister has denied telling her police handlers she "made up" the story of how her parents murdered the teenager.
The body of Shafilea, 17, was found in Cumbria six months after she went missing in Warrington in 2003.
Alesha Ahmed has claimed she saw her parents Iftikhar, 52, and Farzana, 49, suffocate Shafilea with a plastic bag.
She told Chester Crown Court she had not told her police handlers during a row that she had lied about the murder.
Her parents both deny murdering Shafilea, who the prosecution claims was killed because she had become too Westernised and her conduct was bringing shame on the family.
The court has been told Ms Ahmed told police her parents had murdered her sister after she was arrested for organising a robbery at her family home in 2010.
Tom Bayliss QC, defending her father, said: "Its not been an easy journey for you has it? You've had pangs of conscience about the lies you have told."
He added: "You have tried to retract your statement haven't you?"
She replied: "I never tried to retract my statement. I've always said if I don't want to be a witness, it is because I can't cope, not because I want to take my statement away."
'Made up' story
Mr Bayliss told the court that Ms Ahmed had an argument with her "police handlers" in March and claimed she told them the story was "made up".
Ms Ahmed replied: "I have never said that, It's never been brought to my attention if I did, I don't even remember being asked that question at all".
The court was told Ms Ahmed exchanged 76 text messages and phone calls with a mobile phone allegedly belonging to a gang involved in the break in.
When asked why she let four men, armed with a gun, a hammer and an iron bar enter the family home, Ms Ahmed replied: "I think it really shows my state of mind at the time."
Mukhtar Hussain QC, acting for her mother, accused Ms Ahmed of "exaggerating and lying" to the jury about the conflicts between her sister and her parents, to help support her story about the murder.
In response, Ms Ahmed said: "No, not at all. There was literally something all the time, always wearing (Shafilea) down."
Mr Hussain claimed Ms Ahmed's account of her sister being drugged by her parents so they could get her on a plane to Pakistan was "nonsense".
He also said a former school friend of Ms Ahmed described her as "a bit of a story teller".
Ms Ahmed replied: "I would disagree with that."
The trial continues.