Liverpool busker permits defended by council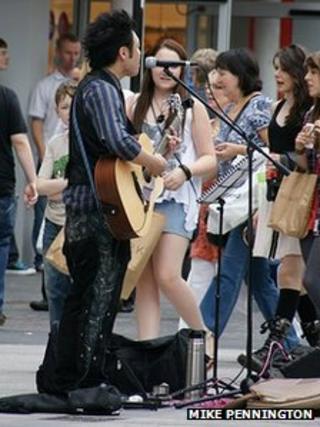 New permits performers will need to buy to play on the streets of Liverpool are "not an attempt to get rid of buskers", the city council has said.
The permits, which come into effect in July, will cost buskers £20 annually. Performers will also need to have personal liability insurance.
Councillor Steve Munby said the system would stop buskers "competing against each other for limited cash".
Former busker Chris Hough said it could "kill off" the city's street culture.
The permits will cover all city centre buskers and some pitches - in Bold Street, Williamson Square, the Cavern Quarter, Queen Square, Lord Street and Church Street - will need to be booked.
The council spokesman said buskers performing without permits would be "moved on" by police.
'Striking a balance'
Mr Munby, the council's cabinet member for neighbourhoods, said buskers provided "a real attraction to the city centre and very many people enjoy their performances".
However he said the council had had "regular complaints from businesses and shoppers about noise levels, repetitive performances and the number of buskers at certain times".
"On some Saturdays, we have had 12 performers in a short stretch of Church Street alone - that can't be good for the buskers themselves as they are, in effect, competing against each other for limited cash.
"So we are trying to strike a balance between the needs of buskers and other city centre users by regulating the situation."
Ged Gibbons, chief executive of City Central BID, which represents 630 businesses in the city centre, said: "Buskers themselves will benefit from a better regulated process and, judging by the volume of complaints we receive, I know retailers and shoppers will be delighted the city has finally made this leap.''