Homecoming honour for Liverpool TA soldiers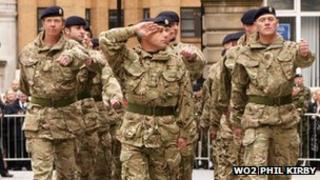 Soldiers from the Territorial Army are honoured in Liverpool after returning from serving in Afghanistan.
The men and women from the 156 (NW) Transport Regiment attended a service at Our Lady & St Nicholas Church before marching to Exchange Flags.
Twenty-eight personnel were presented with medals by the Duke of Westminster.
The majority of soldiers were deployed between October 2011 and March as part of the Close Support Logistic Regiment supplying food and mail to troops.
Capt Graham Dowling, 42, who led the parade, said: "I was involved in a very, very busy operations room.
"We had combat logistics patrols out every other day, and I looked after over 60 of them during the tour.
"Today was a very proud day, it was a culmination of all the effort that started over two years ago with pre-deployment training."
Francesca Freeman, 32, a civilian support staff worker with 156 (NW) Transport Regiment, also received a campaign medal for volunteer work as part of the Civil Service team in Camp Bastion.