Taxi driver from Poulton clocks a million miles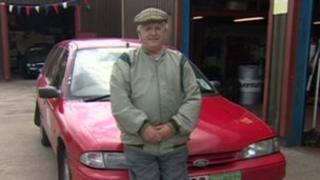 A taxi driver from Lancashire has clocked up a million miles in his cab.
Brian Holmes from Preesall, Poulton, has had his Ford Mondeo since 1996 and said he has made more than 8,000 120-mile round trips to Manchester airport.
Mr Holmes, who runs Bernie's Airport Service, said the 1.8 turbo diesel he bought for £14,000 was a shrewd buy.
He said: "I've not had many problems with it, just general wear and tear and there is still some life left in it."
The 67-year old put the vehicle's longevity partly down to careful driving and regular servicing.
'Done its job'
"There's only me that drives it which helps and I don't put my foot down," he said.
"I go between 60-65 miles per hour which is fast enough and sticking to that speed is better for the engine."
He said he had no plans to replace his car while he was still working. "If it ain't broken - don't mend it.
"I would like a smaller car when I retire though," he added.
John Duckworth, owner of Park Lane Garage in Preesall, who looks after the car, said : "It's kept going and done its job.
"I'm very surprised it's got to a million. Hopefully he will retire now and I won't have to look after it anymore."
Mr Holmes said he only got the car by default. "It was bought by a man at an auction but when they went to pick it up his wife refused to have it because she didn't like the colour so I got a good deal."
Oliver Rowe, of Ford, said Mr Holmes had set a record.
He said: "Twenty years ago we used to run a 100,000 mile club - and we wanted to hear from owners who reached that landmark - but continuous product development meant that became the norm.
"[Brian] has effectively become the founder member of Ford's one million miles club."