Shafilea Ahmed death: Sister told friend 'My dad did it'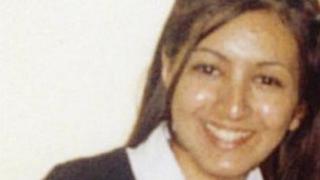 Shafilea Ahmed's sister told a family friend their father stabbed the 17-year-old and her body was "in pieces", a court heard.
Shafilea's parents Iftikhar, 52, and Farzana, 49, deny murdering the teenager by suffocating her at their home in Warrington, Cheshire, in 2003.
Sehreen Shafaat, 22, a close friend of the Ahmed children, said Alesha told her Mr Ahmed stabbed Shafilea.
She said Alesha she told her, "My dad did it", Chester Crown Court heard.
Ms Shafaat, a trainee barrister, said she had known the family as a small child and after Shafilea's death became close to the Ahmeds' other daughters, Alesha and Mevish.
The court heard they attended the same college and she would frequently socialise or study with them at their home.
'No happiness'
It was after one study session in December 2009 when Alesha turned to her and said the family "were not getting on".
She told the jury: "Alesha said there was no happiness and although the family looked happy on the outside, it wasn't happy on the inside."
She described Alesha as "upset" and "crying" and said: "And then she just came out with, 'My dad did it'."
Miss Shafaat told the jury Alesha said "something like", "My dad stabbed her and the body was all in pieces".
"During the conversation, she told me her dad had been violent in the past and she used the word 'strangle' but I can't remember if that was to do with the incident with Shafilea or something else."
She said Alesha had told her not to tell anyone what she had said and that she would take the information "to her grave".
Miss Shafaat said she put the information to the back of her mind and the first time she spoke of that conversation was during an interview with police.
"I wasn't expecting to ever have to repeat it," she said.
Boyfriend's evidence
A former boyfriend of Alesha Ahmed from university also told the court that she had described her sister's death.
The man, who cannot be named, said he had heard rumours among other students that she was related to Shafilea but when he asked her about it she denied it was her family and "brushed it off".
He said there were times he could see Miss Ahmed had "something deep troubling her and she needed to get it out of her system".
She eventually told him that she was Shafilea's sister and had witnessed her death.
"Alesha was in tears and basically said death was by suffocation and involved a carrier bag," he said.
The prosecution alleges Mr and Mrs Ahmed murdered their "Westernised" daughter because they believed her conduct was bringing shame on the family.
Her remains were found on the banks of the River Kent in Cumbria in 2004.
The trial continues.