Mayor of Liverpool visits fatal shooting scene in Norris Green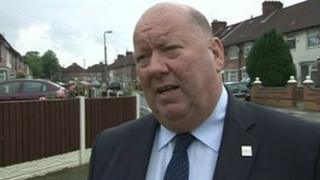 The mayor of Liverpool has urged people to work with Merseyside Police in Norris Green to combat gun crime.
Joe Anderson met with senior police officers and residents following a series of shootings in the area.
In the latest shooting on 14 June, Joseph Thompson, 32, was killed and another man, 27, was seriously injured on Ravensthorpe Green.
Mr Anderson said the shooting had "appalled the entire community of Norris Green".
He added: "[Gun crime] creates a real barrier of fear. My message is you can speak to the police in confidence and you can speak to me in confidence.
"The fact is the vast majority of people within this area are decent law-abiding people."
Armed police have been patrolling the Norris Green area since the incident took place.