Shafilea Ahmed was 'beaten' by parents teacher tells court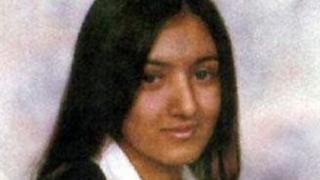 Shafilea Ahmed's teacher saw injuries which the teenager claimed were caused in a "beating" from her parents, Chester Crown Court has heard.
Joanne Code spoke of Shafilea having a "bruised neck and a cut on her lip".
She said Shafilea also ran away from home and said she would not go back because "they are going to marry me off in Pakistan".
Iftikhar, 52, and Farzana Ahmed, 49, deny murdering their daughter Shafilea at their Warrington home in 2003.
'Parents beat her'
The teacher asked Shafilea if she should be worried about her welfare - to which she replied "yes", the court heard.
The next day the teenager returned to school with the signs of injuries to her neck and lip.
"She told me her mother and father had beat her and that they had taken it in turns to do so," she said.
Shafilea remained at school but the following month ran away from home and was found "shivering" in a park by a friend, the court heard.
Mrs Code said a meeting was arranged with social services in which Shafilea said she was "hopeful" that she could be reconciled with her parents.
The following February Mrs Code said she learned that the teenager had run away to Blackburn to be with a man called "Mushi".
'Very good student'
"She said she wasn't going home and when I asked why, she said, 'They're going to marry me off in Pakistan'.
"She point-blank refused to go home."
Mrs Code told the jury the teenager was a "very, very good student".
She said Shafilea was "very, very clear she wanted to be a barrister" and was "exceptionally keen to go to university".
Around a month after she joined the sixth form, Shafilea was absent from school and Mrs Code telephoned the family home and spoke to Mr Ahmed.
She told the jury she was "surprised" when he said Shafilea wanted to leave college and "burn her books".
The prosecution alleges Mr and Mrs Ahmed murdered their "Westernised" daughter because they believed her conduct was bringing shame on the family.
Her remains were found on the banks of the River Kent in Cumbria, in 2004.
The trial continues.