Eric Cantona on stage with Hillsborough campaign band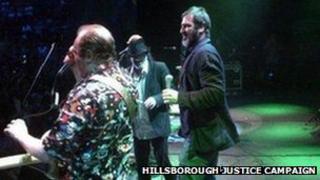 Former Manchester United star Eric Cantona appeared on stage with the Hillsborough Justice Campaign (HJC) band at a concert in France on Monday.
The French footballer and actor sang with Justice Tonight, who were supporting The Stone Roses in Lyon.
The band campaign for justice for the 96 people who died following the Hillsborough football disaster in 1989.
Sheila Coleman, of the HJC, said: "It shows the justice issue transcends any city or football rivalries."
Mr Cantona sang Rock the Casbah and Should I Stay or Should I Go during the set.
Ms Coleman added: "We're thrilled by Cantona's support. Ian Brown from the Stone Roses is also a big supporter and the campaign is going from strength to strength."
Justice Tonight features Mick Jones of The Clash, Pete Wylie and The Farm.