Hillsborough: Why disclosure of secret papers matters to families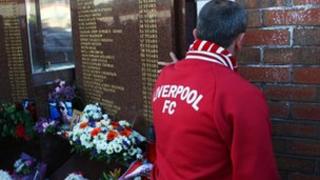 As previously unseen government papers about the Hillsborough disaster are released to the public, relatives of some of those who died explain why the documents are so important.
Margaret Aspinall never received a death certificate for her son James, who was killed at Hillsborough, because she refused to accept the inquest verdict written on it - accidental death.
The inquest, which was held in 1991 into the deaths of 96 Liverpool fans crushed at Hillsborough stadium on 15 April 1989, has been criticised by campaigners for ignoring vital evidence that may show some victims could have been saved if not for a series of catastrophic failures.
Ms Aspinall, chairwoman of the Hillsborough Family Support Group, said: "It was no accident and I'm hoping there's going to be enough evidence there for us to go forward to override those [inquest] verdicts because we have never been satisfied with 96 accidents and I think it's very important to get the real verdict on our children's death certificates."
Now, with the release of more than 450,000 pages of internal documents, which have been examined over two years by an independent panel of experts chaired by the Right Reverend James Jones, Bishop of Liverpool, families hope the truth about what happened that day will finally be revealed.
"We have had mud slung at us for 23 years now," Ms Aspinall said. "I'm hoping this time people realise for 23 years we have been telling the truth - that it was complete negligence why 96 people died."
The Taylor report, published a year prior to the inquest, concluded that the "main reason for the disaster was failure of police control".
'No accident'
More than 3,000 supporters were admitted to the central pens - almost double the "safe" capacity.
However no-one has been held accountable for the disaster, after disciplinary procedures were dropped and a private prosecution cleared senior South Yorkshire police officers on duty.
Campaigners have always accused the police of conducting a cover-up to avoid criticism.
Some hope the new documents will lead to an apology, some hope to see people involved brought to account, some hope to finally lay to rest the myths that fans themselves were to blame, and some want their relatives' inquest verdicts overturned.
The support group has listed 50 questions they want to see answered by the documents.
Why, they ask, did the game go ahead without a valid safety certificate for the grounds? Why wasn't the kick-off delayed? Why did only one ambulance get on to the pitch and why were only 14 victims taken to hospital?
Crucially, they want to know whether, if this series of failures hadn't happened, could any of their loved ones have been saved?
The inquest has been criticised for only taking evidence up to a cut-off point of 15:15, when it ruled the victims were all dead, or brain dead, as it has since emerged that some victims may have still been alive after that time.
'Sheer negligence'
The documents relating to what happened after 15:15 are now expected to be published, giving a clearer picture of the emergency crews' response and what, if any, treatment victims received.
Anne Williams claims she has evidence her 15-year-old son Kevin was still alive at 16:00 on the day of the disaster, and got 100,000 signatures on a petition calling for a fresh inquest into his death earlier this year.
She has also said she would not pick up his death certificate until the cause of death was "put right".
Police documents which had previously been redacted are expected to be seen in full for the first time, after the force had previously argued it was entitled to edit statements to remove comment and hearsay.
Ms Aspinall said: "If there's something new that comes out on Wednesday when we have been down for private prosecutions, we have had scrutiny and all we were getting told is you need new evidence, then if that's there why was that kept back and why did they let the families go through this for 23 years?
"Yes there was a chain of causation, yes they didn't have a safety certificate, yes the city council should have been involved, yes the standard of the fencing in the pens, we know all that. But none of that killed them.
"Opening those gates without blocking off the tunnel and letting another 2,000 people into already crowded pens was sheer negligence and somebody has got to be accountable for it."
Internal documents from the government, police, councils and other organisations are not normally released for 30 years to protect the government of the time, but public pressure has led to their publication seven years early.
Thatcher misinformed
When the independent panel was set up in January 2010 to examine the documents, panellist Phil Scraton, a professor of criminology at Queen's University, Belfast, said its establishment was a "clear recognition that the families and survivors have had neither the full story nor appropriate acknowledgement of the circumstances [of the disaster]."
More than 139,000 people signed an e-petition calling for the full, uncensored disclosure of the government documents.
Some of the documents were seen by the BBC in March - they showed Margaret Thatcher was misinformed by senior officers in Merseyside Police in the immediate aftermath that a "tanked-up mob" were to blame.
Steve Kelly, who lost his brother Michael at Hillsborough, said Mrs Thatcher should be the one to give any apology.
"If the prime minister gives an apology, if that gives the other 95 families a small bit of satisfaction that's fine by me.
"It won't give any satisfaction to me because it's the prime minister of the day who should be doing that apology."
He added: "I hope the documents clearly show where the blame lay and more importantly for me where the blame didn't lie.
"It needs to go down in history somewhere that the supporters that day, the victims, the city was not to blame.
"That's what my main hope is that we get the justification, and if the papers prove that there has been negligence from the police or the government then that's for them to answer at a later date.
"The weight of expectation is tremendous, I just hope people get what they need out of it."