Liverpool student plans Mount Pleasant Car Park pitches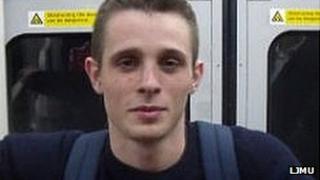 A student has unveiled a plan to build a five-a-side football complex on the roof of a Liverpool car park.
Piers Ebdon, 23, came up with the idea of putting pitches on Mount Pleasant Car Park after he could not find anywhere to play in the city centre.
The former Millwall FC youth team player's four pitch proposal is being considered by Liverpool City Council.
He said he wanted to make "playing team sports as convenient and accessible as going to the gym".
The John Moores University student said he had come up with the idea while walking past the car park and "daydreaming on the way to lectures".
He said the site was currently not used and the complex would "provide the council with extra revenue".
Mr Ebdon added that people fearing a ball being kicked off the roof "don't need to worry, as there will be side fencing and roof netting too, so it won't be flying off and hitting pedestrians all the time".
Alongside the pitches, the new centre would see floodlights installed on the roof and three portable buildings built to be changing rooms and a ticket office.
The plan will go before Liverpool City Council's planning committee later in the year.