Hundreds of cyclists take ride through Birkenhead tunnel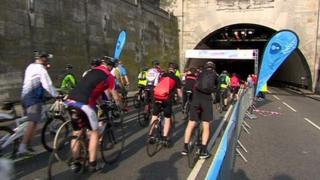 Hundreds of cyclists have ridden through a Merseyside road tunnel as part of an annual bike ride.
About 3,000 riders, including Paralympic cyclist Rik Waddon, passed through the Queensway Tunnel during the 19th Liverpool Chester Bike Ride.
The tunnel was closed to traffic to allow the event to take place.
Mr Waddon, who is a member of the British team at the London Paralympics in August, said riding through it was "a real highlight".
Opened in 1934, the 2.13 mile (3.4 km) tunnel links Birkenhead and Liverpool.
Organisers said the bike ride, which allows participants to choose one of five distances to ride, had attracted the highest number of participants it has had during its 19 year history.
Liverpool's Cycle For Health co-ordinator Gavin McLaughlin, who took part in the ride, said it was "a good way of promoting exercise".
He added that going through the tunnel was "fantastic".
"You can pick up some nice speed going through, but the hill on the other side is pretty tough," he said.