Council backs Norris Green community safety call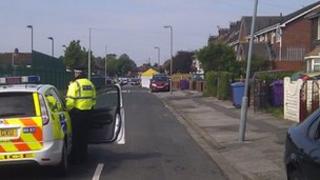 Councillors in Liverpool have backed an initiative to help a community shake off its gun crime image.
A unanimous council vote passed a motion tabled by three councillors, who represent Norris Green, which was affected by two shootings last month.
Their resolution called for greater priority to be given to community safety, greater opportunities for young people and improved housing.
Joseph Thompson, 32, was killed and another man wounded in the shootings.
The motion by Labour Councillors Barry Kushner, Alan Walker and Vi Bebb said most people in Norris Green were "decent and law-abiding".
It noted: "Recent worrying criminal incidents in Norris Green but welcomes the response of the community and the police in testing times."
The motion added: "[The] council further welcomes the developing partnerships between youth and community organisations, the police, councillors, council officers, housing providers, churches/faith groups and residents."
And it called on the council to prioritise the development of a community safety partnership, improve opportunities for young people in the area and to continue to work with housing associations to invest in existing and new build family housing.
Councillor Kushner said: "We are very pleased with the vote especially as earlier in the day the Mayor Councillor Joe Anderson told us we would also be getting £80,000 to spend on community projects in our area."
He said a conference would be held later in the year for all the different organisations and bodies who work in the area to see how existing positive projects can be developed.