Taxi driver Andrew Flood jailed for Southport murders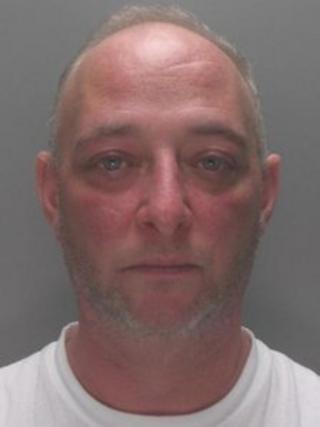 A Southport taxi driver with a gambling addiction has been jailed for at least 30 years after admitting murdering two of his elderly passengers.
Andrew Flood, of Clifton Road, admitted killing Margaret Biddolph, 78, and Anne Leyland, 88, at Liverpool Crown Court.
He strangled both victims in their own homes, one with a phone charger cable, the other with her dressing gown cord.
The court heard Flood, 43, was a "desperate" man with debts of around £18,000.
Same bookmakers
Nick Johnson QC, prosecuting, said following the murder of Mrs Leyland on 20 February, Flood was seen on CCTV "smiling" as he left a betting shop in Southport shortly after 15:00 GMT.
The court was told Flood then murdered Mrs Biddolph before returning to the same bookmakers shortly before 16:00 GMT.
Mr Johnson said: "We know he murdered Mrs Biddolph and 53 minutes would certainly have been long enough to have done it."
Flood handed himself in to police later that afternoon, where he was initially arrested for being drunk and disorderly.
He then told an officer he had killed two women, at which point he was held on suspicion of murder.
Mrs Biddolph was found dead at her home in Lonsdale Road on 21 February, with Mrs Leyland discovered dead the following day on nearby Birch Street.
Flood's DNA and footmarks were found at both properties.
Mr Johnson said: "Mrs Leyland had been strangled with the cord from the dressing gown she was wearing when she answered the door to Flood."
Post-mortem examinations suggest Flood may well have been "sitting astride" the pensioner and strangled her "face to face".
'Unspeakably wicked'
Recorder of Liverpool Judge Clement Goldstone QC said Flood knew where his victims lived because he had worked for them as a private hire cab driver.
He said: "You targeted them because you wanted to rob them of their money and jewellery in order to feed your dependency to alcohol and your addiction to gambling which had caused you and your family to suffer financial hardship."
Judge Goldstone said he could not be certain that Flood had planned the killings but branded the murders "unspeakably wicked crimes".
John McDermott QC, defending Flood, said: "There is no simple or rational explanation for why a man of previous positive good character, a family man, has now committed these terrible crimes."
But he said depression, drinking and desperation had all played a part.
Flood also pleaded guilty to robbery of another passenger in a separate incident.
Speaking after the sentencing, Mrs Biddolph's daughter Anne Pearson said: "Today's sentencing sees justice done in the eyes of the law, but it will never bring our mother back to us. Her death is something we will never fully recover from."