Homes near Toxteth tunnel collapse checked for safety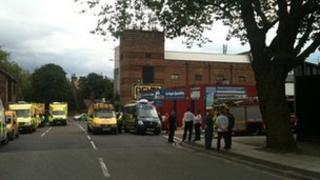 Safety checks are being carried out at nine houses affected by the collapse of a former railway tunnel in Liverpool.
Nine families spent the night with friends and relatives after the tunnel's roof, on Park Road in Toxteth, gave way on Tuesday morning.
Workers at Roscoe Engineering, based in the tunnel, had alerted the emergency services at about 11:30 BST.
No-one was injured in the incident but houses on four streets near the collapse were evacuated.
Park Road was also closed for several hours at its junctions with Dingle Lane and Keddleston Street while emergency services were at the scene.
Most residents were allowed to return to their homes on Tuesday afternoon, but those living in one house on Toxteth Grove and nine in Sundridge Street are still not allowed back in.
A spokesman for Liverpool City Council said all had found accommodation with friends or relatives.
The rock between the tunnel and the houses is being assessed to make sure the houses are safe before the residents will be allowed to return.