Liverpool recalls 1862 Olympic founder John Hulley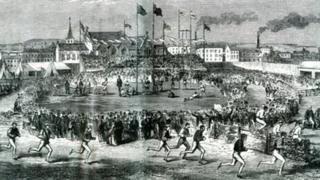 As Beth Tweddle prepares for London 2012, Liverpool's most famous gymnast is continuing a 150-year-old Olympic tradition in the city where she trains.
Gymnastics and athletics became so popular in the city in the 1860s that local man John Hulley started the Liverpool Olympic Festival - an event described as one of the forerunners to the modern Olympic games.
The multi sport competition took place in 1862 and saw crowds of up 10,000 gather at Mount Vernon in the city centre to watch athletes and gymnasts compete in organised events.
Thirty-four years before the rebirth of the modern Olympics in Athens, the festival was open to amateurs and international competitors and ran annually until 1867.
'Healthy mind, healthy body'
The son of a surgeon and a gymnastics fanatic, Mr Hulley wanted to encourage people to exercise.
He worked closely with the Wenlock Olympian Society in Shropshire, who held the first Olympic games in England in 1850, and co-founded the Liverpool Athletics Club in Bold Street in the late 1850s with fellow sports philanthropist Charles Pierre Melly.
According to historian Ray Hulley, he was passionate about involving people in sport.
"John Hulley was a great believer in healthy body, healthy mind," he said.
"The Liverpool Gymnasium he opened was a vital place for local people to undertake activities indoors and train in other sports too. Not only gymnastics but boxing as well.
"He also set up the Liverpool Bicycle Club."
The second Liverpool Olympic Festival in 1863 attracted crowds of up to 15,000 people and, in 1864, Mr Hulley was awarded a medal by the Wenlock Olympian Society to mark their appreciation for his services to physical education.
The success of the games meant Mr Hulley had enough money to build a new gymnasium in Myrtle Street.
He opened a new, bigger club to the public in 1865 and it became the meeting place for the National Olympian Association.
Ray Hulley said: "John Hulley had a huge impact on athletics and gymnastics in the city.
"The Liverpool Olympic Festival was pioneering sporting event, an event with ambition and the series of festivals have left a huge legacy of sport in Liverpool."
Less than a mile away from his former gymnasium, John Hulley's legacy lives on.
The current City of Liverpool Gymnastics Club in Toxteth is the training ground for four Olympic gymnasts: Beth Tweddle, Rebecca Tunney, Hannah Whelan and Jennifer Pinches who will compete at London 2012.
Mr Hulley died in 1875 and is buried in Smithdown Road Cemetery in the city.
His grave is inscribed with Liverpool Gymnasium motto, " Mens sana in corpore sano " which translates as "A healthy mind in a healthy body."