Bells ring in West Kirby for Olympic opening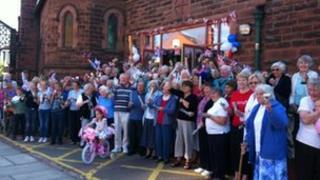 Bell ringers at a Wirral church joined thousands around the country in a three-minute chorus of ringing to mark the official start of the Olympics.
The group gathered at West Kirby Methodist Church to join in with the All The Bells event at 08:12 BST.
People were invited to ring any bell they had, including handbells and bicycle bells.
The project was the idea of Turner prize winning artist and musician Martin Creed.
He called it "a brilliant and amazing sound" and a "once-in a lifetime" performance.
The event was triggered by the firing of cannons on HMS Belfast.
In London, Big Ben rang 40 times during the three minutes, and church towers rang out across the UK.
Ian Jackson, who organised the West Kirby event, said: "We wanted something where the whole of the community could get involved with the Olympics.
"We just want to get into the spirit of things here at West Kirby Methodist Church."