Liverpool extends London 'business embassy' project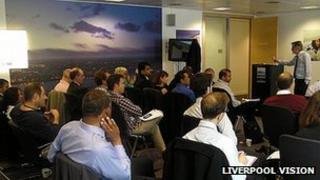 A Liverpool "business embassy" in London will remain open until 2014, the city's mayor has said.
The "Liverpool In London" project started in January 2011 to try to attract businesses to Merseyside.
Originally opened for three months, it has since been extended due to "great success".
Mayor Joe Anderson said the project, which will cost £330,000 to extend for three years, had already "brought considerable success to Liverpool".
The office, based in New Broad Street, near Liverpool Street, is a joint scheme by the council, public sector groups and 30 Liverpool businesses.
A spokesman for Liverpool Vision, which runs the offices, said since opening, the "business embassy [had hosted] more than 170 meetings, including visits from several overseas delegations, and 26 high-profile events".
He added that it had generated "16 significant investment leads and around £1m of deals".
Mr Anderson said that the offices remained "central to our ambition to promote Liverpool as an international outward-looking city brimming with talent and enterprise".
"The challenge we all face is delivering in tough times and it is for these reasons that I have taken the decision to signal our on-going intent by funding our London presence until 2014," he said.