Shafilea Ahmed: Investigating honour crime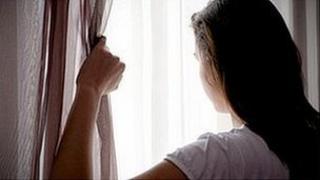 She has been on the run from her family for seven years, but Maziera's only sin is being a Sikh who married a Muslim.
In the eyes of her family she has brought shame and dishonour.
"My dad said he wanted to kill me and I had gone too far this time," said Maziera, not her real name, who lives in the North West.
"I've had to change my identity, change the way I dress, change my look, and he still keeps threatening me.
"He keeps saying he's going to get me one day, he's going to kill my daughter, he's going to kill me because I have shamed my family."
On Friday Shafilea Ahmed's parents were convicted of her murder by a jury at Chester Crown Court.
The Warrington teenager's body was found in the River Kent in Cumbria in February 2004 more than four months after she disappeared.
Her parents' high profile case has already caused a rise in reporting of so-called honour crime, according to Nazir Afzal, head of the Crown Prosecution Service in the North West.
"There is a spike in reporting these crimes during high profile court cases as victims see they are taken seriously," he said.
Honour crime poses a double challenge for the authorities. Firstly, breaking the silence that exists in families and communities and secondly, discovering the extent of the problem.
According to Mr Afzal, investigations into honour crimes have to be "thorough, innovative, courageous and not time-bound".
Unlike most murders, the families may not report a missing person, and attacking or killing the victim might be perpetrated by other family members, the extended family or criminal gangs.
"We and our police colleagues have to employ all the techniques we use to tackle organised crime to break down that wall of silence and that can take, as in the case of Shafilea and others, several years," said Mr Afzal.
It means using covert surveillance and cultivating family members to testify against their relatives, offering them witness protection.
The second challenge facing the authorities is the depth of the problem.
Saima Afzal, an independent member of Lancashire Police Authority, said there were plenty of anecdotes about the scope of the problem, but no statistics to back it up.
"In the UK we talk about a yearly figure of 10,000 honour crimes but that is just a guess-timate - I think it is far deeper than that," she said.
"We don't know how many women disappear either."
She said a project set up in Blackburn a few years ago for women facing forced marriage pressure saw at least 500 women a year coming for help.
"Last year, we had 132 forced marriages [in Lancashire] and honour-based incidents and this year it is 50 so far," she said.
Ms Afzal said police are leading the way in logging incidents but other public bodies need to start collecting data. For example, schools should collate figures for how many girls do not return from the summer holidays, or never sit their exams.
Ms Afzal is convinced that although police action has a role to play in curbing honour crime, ultimately a culture change is needed in communities.
"Murder, kidnapping and trafficking are crimes - forced marriage is far more complex.
"There will be many young people who acquiesce because what is the alternative? It could be murder as in the case of Shafilea.
"We know there was immense pressure on Shafilea. When it's a culture, how many people do you arrest?"