Parents' plea for baby Jack's heart donation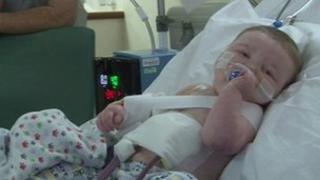 The family of a 15-month-old Liverpool boy have spoken about their agonising wait for a new heart for their child.
Jack Morris has a rare condition which means his heart does not pump blood around his body properly.
He is being kept alive by an artificial heart at the Freeman Hospital in Newcastle, but without a donor he could die at any moment.
His parents say more needs to be done to encourage bereaved parents to donate their children's organs after death.
His father, Chris Morris, from Anfield, said: "It just seems like one big long drawn out problem, and when you come in of a morning and go home of a night, it's just the same worry really.
"You sit at the bedside and the only thing you think of is fear and hope really."
First transplant
Jack, who was diagnosed with dilated cardiomyopathy last year, was transferred to Newcastle from Liverpool's Alder Hey Children's Hospital.
He was fitted with the artificial heart in March, meaning Mr Morris and Jack's mother Laura Campell have now been waiting five months for a donor to be found.
"It's just a waiting game, because there are other children as well as Jack under two waiting for a heart transplant, and we're all in the same position really," Mr Morris added.
Lynne Holt, Transplant Co-ordinator at the Freeman Hospital, said: "We know that we can't save these babies unless a baby donor is found.
"Saying that, we can't go looking for donors but we just hope that families around the UK and in Europe can find it in themselves if their baby dies, that they can think about offering their baby's organs to save our babies."
Surgeons at the hospital carried out the UK's first successful heart transplant for a baby in 1987.
Since then hundreds have taken place successfully, and Jack's parents are hoping he can be the latest on the list.