Liverpool School of Tropical Medicine to create 150 jobs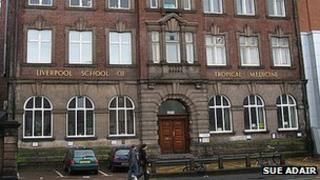 A Merseyside medical institution is to create 150 new jobs as part of an "ambitious" expansion plan.
Liverpool School of Tropical Medicine will begin its expansion with the recruitment of 16 new academic teams.
Director Professor Janet Hemingway said the school's "accelerated growth plans" would also see it taking on more premises on Pembroke Place.
She added that the jobs were "the next step in realising [the school's] ambitions".
The institution, founded in 1896, was one of the first in the world to be dedicated to tropical medicine research.
It operates in 85 countries across the globe and has a research portfolio worth £192m.
In 2008, the school opened the £23m Centre for Tropical and Infectious Diseases, a site which Prof Hemingway said was now "at capacity, due to our success in recent years".
"We have an interim plan to refurbish another site opposite to continue with our accelerated growth plans," she said.
"I see the appointments we are looking to make as the next step in realising those ambitions."