GB gymnastics medal celebrated in Daniel Purvis's Merseyside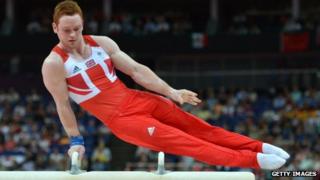 There were scenes of celebration on Merseyside after Daniel Purvis won an Olympic bronze medal with the British men's gymnastic team on Monday night.
The 21-year-old from Crosby was just seven years old when he started training at Southport YMCA.
His family took him there to "burn off some excess energy" but could not have dreamed of his Olympic success.
Daniel and his team have become the first British men's gymnastic team to win an Olympic medal since 1912.
Members of the club gathered to watch the final at a bar in Ainsdale, where team manager Ricky Brooks said it meant so much to them all.
"It means so much to our club, everyone who has volunteered there, all the parents who help out, that's what builds a club and builds gymnasts like that really, it's brilliant," he said.
'So proud'
Daniel's father, Bob Purvis, said: "He was seven when he started at Southport YMCA - we just wanted somewhere to take him where he could get rid of some of his excess energy, and stop ruining the house with climbing all over everything and jumping over everything.
"The gym was an escape for us, and he took to it like a duck to water dare I say, and the gym took to him and it has been one amazing family there.
"Lots of friends, coaches and colleagues there have all contributed to his success, and the support he's had from his friends in Crosby and everyone in Liverpool.
"He has really appreciated that, he has known about it and it has helped him, he said he was so proud when I spoke to him last night."
China won the gold medal, with Team GB initially in second place.
Japan was originally placed in fourth, but moved up to second after an appeal, leaving Daniel and his team with the bronze.
'Unheard of'
Mr Purvis said they were amazed at their own success.
"It took a long time to unfold but they finished the strongest and they thoroughly deserved what they got in the end," he said.
"I think we were so amazed to have imagined that we were second there behind China, above the likes of America and Japan, which is unheard of.
"Once reality set in we just fully appreciated what had gone on."
He said his son and team mates Louis Smith, Sam Oldham, Kristian Thomas and Max Whitlock had won the medal through "total commitment".
"He has just dedicated himself to it and thankfully he can now see it paying off, it's a dream come true," he said.