Nappy recycling scheme launched in Cheshire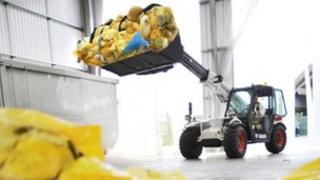 Used nappies will be turned into roof tiles and plastic bins as part of a new recycling scheme in Cheshire.
Around 1,300 homes in the Vale Royal area will take part in the free 'Nappy-cycle' as part of a six-month trial - the first of its kind in England.
Families have been given special sacks to be collected weekly and taken to a recycling plant in West Bromwich.
West Cheshire and Chester Council said it expects to recycle 25 tonnes of nappies each week.
Councillor Lynda Jones said: "We are delighted that so many families have chosen to take advantage of our pioneering pilot.
Nappy mountain
"For the first time, it offers parents and carers an environmentally-friendly disposal option that is also convenient and hygienic."
Every year in West Cheshire 5,000 tonnes of nappies are sent to landfill, where they take up to 500 years to decompose.
Roy Brown, chief executive of specialist recycling company, said the nappies could be turned into valuable plastics and fibres.
The Nappy-cycle service is also available to residents who need to dispose of adult incontinence products.
If a success the council said they plan to expand the scheme across West Cheshire.