Liverpool tunnel collapse woman 'forced' to live in hostel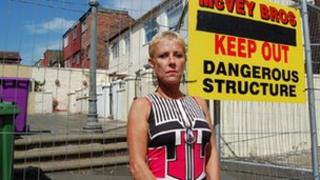 A woman unable to return to her home in Liverpool after a tunnel collapsed says she has been forced to live in a hostel.
Tracey Mors, 51, has not been allowed back into her home in Sandridge Street, Dingle, since a tunnel which runs under her house crumbled two weeks ago.
She was moved to a women-only hostel three miles away and said she is forced to live by the strict rules.
Mr Mors said: "I can't have my son over, I can't have my granddaughter over. The hostel rules mean I can't even stay out past midnight because they have a curfew. My life has come to a complete standstill.
"The communal cooking, communal washing. I'm not used to living like this. I'm trying so hard to stay positive but it is heartbreaking."
Ms Mors, who has lived in Sandridge Street for 12 years, is in the hostel until alternative accommodation can be found.
Liverpool City Council said she had been offered a flat - but Mrs Mors said she turned it down because it was unfurnished.
Her house is one of 10 homes which have been sealed off under danger of collapse since the tunnel gave way.
Catastrophic effect
The tunnel collapse led to a number of roads being shut, including Park Road, which is one of the main routes into the city. However, most of the roads were reopened later that day.
Ms Mors said: "Everyone was going back into the street but then the police stopped me and a few others and said: 'No, you can't go into your house'."
The tunnel, which was being used by a car repair company, is built on the former site of Dingle railway station.
Most of the residents knew it was there - but few thought it would have such a catastrophic effect on their lives.
Ms Mors had even ventured underground to have her car repaired.
She said: "I've used that garage to have my car fixed. I've been under there and it's huge. It must be as tall as a house.
"Now I'm worried about how much space there is between the top of that tunnel and the foundations of my house.
"And that tunnel runs all the way under Dingle and out at Herculaneum Dock. That goes under a lot of houses - people are worried."
'Locked out of my life'
The other families affected have been relocated into social housing or are staying with relatives.
Ms Mors added: "They let us go in for five minutes on the day it happened and I grabbed what I could. It was so confusing I didn't know what to take - some underwear, an outfit for tomorrow - we just didn't expect to be out for this long and nobody is telling us anything.
"Everything, my whole life is locked in that house. My passport, birth certificates, photographs. Everything. I'm locked out of my life."
Councillor Paul Brant, who represents the local ward, said the council would know more after a report by a structural engineer was completed.
He said: "It is a very unusual situation. We have to make sure that it is safe enough for people to go back in."
He said families affected have had their council tax frozen and the council was providing security for the properties.
Ms Mors added: "I don't want to think about not being able to go back.
"Sandridge is such a lovely street, you can leave your door open, we all look out for each other. Streets like that just don't exist anymore.
"The neighbours have been great. They have been taking all the mail in and they arranged a meeting in one of the houses so we could all get together.
"I can't go on living in a hostel. All I want is to be able to go home - to my bed in my home."