Horse-drawn canal boat arrives in Liverpool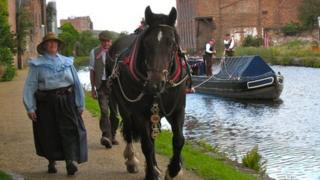 The first horse-drawn canal boat to travel the length of the extended Leeds to Liverpool canal has arrived in the city's Pier Head.
It marked the end of a five-month, 128-mile journey for horse Bilbo Baggins and 60-foot Yorkshire narrow boat Elland.
Horse boating Society chairwoman Sue Day, who has travelled on board, said they had been made "very welcome".
She added: "People have been flabbergasted at the sight".
Ms Day, who started the journey in April, said it was the first time in 68 years that a horse-drawn canal boat had followed the canal route and the first time one had arrived in the city centre.
She added: "Horseboating has become incredibly rare - there are only five of us in Britain with horse-drawn boats.
"People just love to see a horse-drawn boat come through their locality.
"We are trying to preserve and promote horse boating and keep the skills and traditions going.
"And Bilbo is absolutely fine, we have been taking it very easy."
World Heritage Officer John Hinchliffe said: "Horses were a common sight on our waterfront from the 18th Century, right through to the 1960s.
"They maintained the vital link between the docks and the rest of the city and were instrumental in placing Liverpool as one of the world's most prominent and prosperous ports."
The £22m Liverpool city canal link opened in 2009 and extends the Leeds to Liverpool canal one-and-a-half miles to pass historic sites including the Liver, Cunard and Port of Liverpool buildings.