Manchester Ship Canal closed after Stanlow oil spillage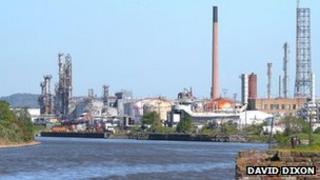 A clean-up operation is under way after an oil spill closed a stretch of Manchester Ship Canal in Cheshire.
The 4.5-tonne spill at the Stanlow refinery in Ellesmere Port on Sunday morning led to the waterway being closed.
A spokesman for Essar Oil, which runs the refinery, said the spill had happened as a result of a processing problem, which had since been fixed.
A decision will be taken whether to reopen after an 18:00 BST inspection.
The Essar spokesman said the company had "made solid progress in recovering the small amount of discharged oil".
'Precautionary measure'
He added production at the site had not been affected by the spill or the processing problem.
A spokesman for Peel Ports said an inspection in the morning confirmed the clean-up was proceeding as planned.
He added: "There will be a further inspection at 18:00 BST, at which point we hope to be able to safely reopen the section of the Canal that has been closed to traffic."
Peel said the closure had been "a purely precautionary measure to prevent passing vessels spreading the oil into a wider area than that already affected".
The spokesman said one ship had been prevented from leaving the canal and others due to arrive had "been advised of the temporary closure, allowing them to slow steam, arriving a bit later than scheduled".
"Other cargo will be discharged in Liverpool and moved by road," he said.
"We are intent on keeping disruption to our customers and other Ship Canal users to an absolute minimum and the section of the canal that has been closed will reopen as soon as possible."