Manchester Ship Canal reopens after Stanlow oil spill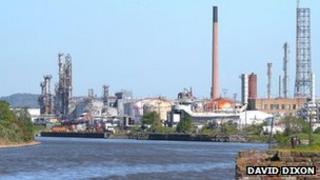 A stretch of Manchester Ship Canal in Cheshire has reopened after having to be shut while an oil spill was cleared.
The 4.5-tonne spill at the Stanlow refinery in Ellesmere Port on Sunday morning led to the waterway being closed by its operators Peel Ports.
A spokesman for Essar Oil, which runs the refinery, said the spill had happened as a result of a processing problem, which had since been fixed.
The canal reopened at 20:00 BST following an inspection.
A spokesman for Peel Ports said the closure had been "a purely precautionary measure to prevent passing vessels spreading the oil into a wider area than that already affected".