Lion cubs named Jessica Ennis and Victoria Pendleton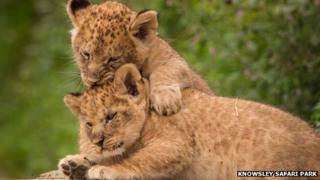 A pair of Merseyside lion cubs have been named after Olympic stars Jessica Ennis and Victoria Pendleton.
The eight-week-old cubs at Knowsley Safari Park have been shown publicly for the first time.
Having been in isolation since birth, their outing was part of being introduced to the park's pride.
Lion keeper Olly O'Malley said he was looking forward to "watching their individual personalities develop".
Park officials said the cubs had been "affectionately named in honour of the golden girls of Team GB".
"[They will now] spend a few more weeks with their mother Jasmine in a specially designed suite and paddock, before being officially integrated into the pride," a spokeswoman said.
The naming of the cubs after the heptathlete and the cyclist comes after a recently-born wildebeest at the park was named after Tour de France winner and fellow Olympic gold medallist Bradley Wiggins.