Firms count cost after Liverpool's Mathew Street festival cancelled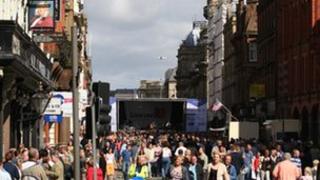 Businesses in Liverpool said they were left "out of pocket" following the cancellation of the annual Mathew Street Festival.
About 160,000 people were expected for the second day of the free music festival.
But organisers said they had to pull the event after high winds caused safety concerns.
"It was worse than we expected. We lost £4,000 on last year," said Alison Foster, of The Central pub.
"It was awful. We had to send staff home, and food that was perishable we had to throw away."
'Risks too high'
Owner of 31 Mathew Street Cafe Bistro, Steve Hess said: "The Monday is usually our busiest during the festival but we had to shut early because it was so quiet.
"We have had surplus stocks of fresh food which has had to be thrown away.
"We've lost money and as a small business you rely on busy weekends like this. All the businesses around here have suffered."
Councillor Wendy Simon, Liverpool City Council Cabinet Member for Culture and Tourism, said: "The advice from the Met Office, the independent safety advisor and Merseyside Police was that the risks were too high.
"The actual infrastructure of the stages wasn't an issue, the difficulty was in anything not securely fixed down.
"Anything on stage - microphones, high rise speakers, equipment that the artist might bring on stage were at risk of blowing over.
"Also, temporary fencing, temporary barriers, cones, temporary signage that could blow off and fall in to crowds.
Ms Simon also added if the festival had started and then been stopped part way through there would be a difficulty in dispersing thousands of people from the city centre.
"Public safety is paramount and we just couldn't take that risk," she added.