Mersey Ferries to be reviewed over £1m yearly losses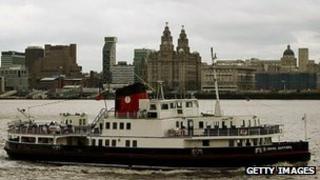 A major review is to take place into the operation of Mersey Ferries as the group responsible for it seeks to cut its annual £1m losses.
"We haven't had a review of the ferries for quite some time," said Councillor Liam Robinson, who chairs Merseytravel.
The ferries, immortalised by Gerry and the Pacemakers 1960's hit Ferry Cross the Mersey, are subsidised by tolls from the Mersey Tunnels.
Although used by commuters, the vessels are mainly a tourist attraction.
The detailed review into how the operation works could consider saving money by cutting winter sailing times but also improving revenue by promoting more specialist cruises.
'Smarter way'
"Now is a very good opportune moment to look at the ferries which are a key part of the transport network but also a key part of the tourism and heritage offer," said Mr Robinson.
"We want to operate in a much smarter way."
The ferries are protected by a Royal Charter and it would need an act of parliament to end the service.
In their 1950s heyday the ferries carried millions of passengers, but these numbers dropped due to competition from rail and the construction of the second Mersey road tunnel in 1971.
Passenger numbers average more than 600,000 annually.
The first fare-paying ferry across the Mersey was operated by Benedictine monks from Birkenhead Priory in the 12th Century.