Memorial campaigners re-enact Liverpool Pals march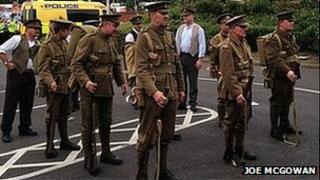 Campaigners wanting a permanent memorial to Liverpool's World War I volunteer soldiers have re-enacted a historic march through the city.
The group from Liverpool Pals Memorial Fund walked from Scotchbarn Lane in Prescot to a memorial service on St George's plateau in the city centre.
The march followed the route taken by Prescot factory workers in 1914.
Organiser Tony Wainwright said the city had "nothing to commemorate 2,800 lads who never made it home".
The Liverpool Pals were local office clerks, messenger boys and factory worker who responded to a call to arms from Lord Derby in 1914.
Many of those involved in the re-enactment took part in the march wearing World War I uniforms.
The memorial service was followed by a piper's lament on Lime Street, where Mr Wainwright said he hoped the memorial would be placed.
He said the group was "trying to get a permanent memorial placed in Liverpool city centre, in or around Liverpool Lime Street Station".
He added that the group hoped to raise the funds needed for the memorial by 2015.