Liverpool vigil as Hillsborough papers released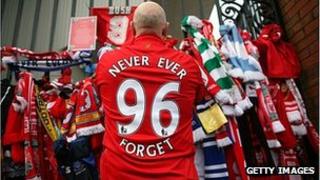 A vigil will be held for the victims of the Hillsborough Disaster in Liverpool on the day documents about the tragedy are released to the public.
Government papers about the 1989 football disaster, which led to the deaths of 96 Liverpool fans, are due to be released on 12 September.
The vigil will take place on the same day on the city's St George's Plateau.
Mayor Joe Anderson said it would allow the city to support the victims' families at a "very difficult time".
The fans died after a crush on overcrowded terraces at Sheffield Wednesday's ground on 15 April 1989.
The government and police documents will be released in conjunction with a report from the Hillsborough Independent Panel.
'Full support'
Mr Anderson said the release would be an "extremely emotional and traumatic occasion".
"This is a day the Hillsborough families and the city has waited 23 years for," he said.
"The people of Liverpool need to show our full support to the families and let them know that we are with them at this very difficult time.
"All people have wanted was that the truth be known and for justice for the deceased.
"We hope the panel's findings will finally reveal what actually happened on that dreadful day.
"Everyone in Liverpool knows someone who was touched by the tragedy.
"People will want to not only remember the 96 who lost their lives but also, having waited so long, to share their sadness together as a city and support each other through this emotional time."
The vigil, which will be led by Mr Anderson, will begin at 18:00 BST and include prayers from faith leaders, readings and choral performance.
The Hillsborough Independent Panel, which has examined thousands of documents related to the disaster, has been chaired by the Bishop of Liverpool, the Right Reverend James Jones.
Other members have included journalist Peter Sissons, public information expert Christine Gifford and former Northern Ireland Deputy Chief Constable Paul Leighton.