Hawthorne's Free School: Teachers plan High Court action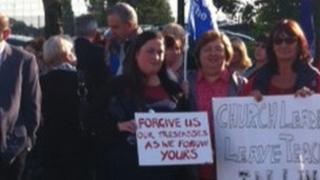 Teachers left without work when two schools in Merseyside merged to form a free school are taking their case to the High Court.
About 100 staff from St Wilfrid's High, Litherland, and St George of England High, Bootle, lost their jobs when The Hawthorne's Free School formed.
The staff, whose contracts were terminated on 31 August, said they were not made redundant or sacked.
Their former employer Sefton Council said it was awaiting legal advice.
Teachers protested outside The Hawthorne's Free School in Bootle on Monday.
One teacher, who did not want to be named, said: "The local authority terminated our contracts but we have not been made redundant.
"We were told our contracts would be transferred over but that hasn't happened.
Redundancy payments
"Those now in charge of the free school say it is a new entity. As far as we're concerned we are currently in limbo."
Chris Keates, General Secretary of the NASUWT, said the teachers were "being denied entitlement to redundancy payments".
She added: "The teachers are the victims of the failure of The Hawthorne's Free School trustees and Sefton Council to resolve the question of who has responsibility for the staff of two schools which have closed."
Teachers are investigating whether their contracts are protected under TUPE (The Transfer of Undertakings Protection of Employment Regulations) law meaning employees should automatically transfer to the free school.
A Sefton Council statement said: "We are currently waiting on further legal advice before we are able to move forward and this is expected in the coming days."
A spokeswoman for The Hawthorne's Free School said nobody was available for comment.