Police and crime commissioner elections: Merseyside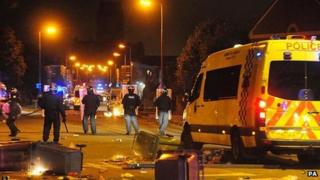 On 15 November, 41 police and crime commissioners will be elected in England along with four in Wales.
The PCCs, as they will be known, will be tasked with scrutinising their force and holding it to account. They will also be able to hire and dismiss the chief constable and set the force's budget.
The commissioners will be paid and are supposed to empower local people into having a say on how crime is tackled in their area.
Nominations for candidates in Merseyside have now officially closed.
BBC News has taken a look at each of the police forces ahead of the elections.
Merseyside Police
Founded in in 1974, Merseyside Police covers an area of 250 sq miles (650km) policing a population of approximately 1.5m people.
The force is split up into six Basic Command Units (BCUs) which correspond with the metropolitan boroughs of Sefton, Knowsley, St Helens and Wirral as well as Liverpool North and Liverpool South - each headed by a chief superintendent.
It is an area taking in the genteel retirement resort of Southport in the north, the post-industrial landscape of places such as St Helens, Huyton and Kirkby to the East, with the city of Liverpool at its heart.
To the west and over the River Mersey is Wirral, with what some observers see as socially deprived areas sitting alongside more affluent rural areas.
There are two other forces within its jurisdiction; the Port of Liverpool Police and the Mersey Tunnel Police responsible for the docks and the Mersey Tunnels respectively, although there is an "understanding" that the bigger force will take the lead over any major incidents in those areas.
Chief Constable Jon Murphy has been a Merseyside police officer almost as long as the force has existed, joining as a PC in 1975 and rising through the ranks to deputy chief constable before his departure to the National Crime Squad in 2001.
He returned to Merseyside as Assistant Chief Constable in 2004. Six years later, he succeeded Bernard Hogan-Howe as Merseyside's chief constable in 2010.
Funding
Like other forces, Merseyside has had to cope with major budget cuts in the wake of the coalition government's 2010 spending review which required the force to shed £61m over four years.
The number of serving officers has fallen by 5% from its level of 4,414 in September 2010 to the current level of 4,178.
This year's council tax precept - the amount of money which each household pays towards the area's policing - is £150.62 for a Band D property which amounts to a 3% rise following last year's freeze. It is higher than neighbouring forces Greater Manchester (£144.33), Lancashire (£149.93) and Cheshire (£150.44).
However, the outgoing Merseyside Police Authority believes it has good legacy for the incoming commissioner after front-loading its spending cuts.
A freeze on recruitment could end in the next financial year with the prospect of the force being able to recruit replacements for officers who have left, depending on the level of the government grant.
Crime and performance
A look at the performance data issued by Her Majesty's Inspector of Constabulary (HMIC) shows the force compares well with other constabularies.
Only the Metropolitan Police has more officers, Police and Community Support Officers and support staff per 1,000 people - the Met has six while Merseyside has five.
It is also among the forces with a high approval rating, with more than 75% of crime victims satisfied with their service.
However, a spate of shooting and gang-related incidents this year, particularly in the north of the city, is stretching police as they try to use the force of law to combat the "rough justice" being meted out on the streets.
Ch Supt Paul Richardson, recently appointed head of the force's Matrix unit which is tasked with targeting armed criminals, said gun crime was an acute problem with factions of young people settling even the most trivial of disputes with guns.
According to some observers, the main issues facing the new police and crime commissioner are guns, drugs and gangs.