Top lawyers free advice for Hillsborough families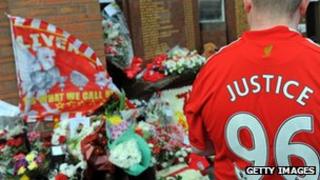 Two top lawyers will give free advice to Hillsborough football disaster families when documents about the tragedy are released on 12 September.
Michael Mansfield QC and former Lord Chancellor Lord Falconer will advise on issues arising from the government and police documents.
Mr Mansfield said: "The families believe, quite rightly, that they haven't had justice."
He and Lord Falconer will be with the families in Liverpool.
A report by the Hillsborough Independent Panel is also being released.
Ninety-six Liverpool football fans died after a crush on overcrowded terraces at Sheffield Wednesday's ground on 15 April 1989.
An original inquest into the tragedy in 1991 ruled 95 of the victims were dead by 3.15pm, but some families believed their relatives were still alive after that time.
Families also challenge the verdicts of accidental death from that inquest and allege two CCTV tapes went missing from the locked police control box at Hillsborough stadium which could have revealed vital evidence of what happened that day.
Jenni Hicks from the Hillsborough Family Support Group, who lost her two teenage daughters Sarah and Victoria, said: "Ninety-six people didn't die accidentally.
"We want to see if there is anything to take away the verdict of accidental death and it is amazing to have two such top class lawyers working with us."
'Waste of time'
Mr Mansfield, who represented the Bloody Sunday and Stephen Lawrence families, added: "The families believe the original inquest was a complete waste of time cutting it off at 3.15pm.
"The most important issue is the missing 45 minutes as well as the missing CCTV, whether any of the 400,000 documents are going to shed any light on this.
"One of the key questions is how can the panel reassure the public that they've seen everything they should have seen and the families are seeing everything the panel is seeing.
"Is this disclosure exercise as full as it is being made out to be?
"If there is something missing, you ask where it is and if it has gone missing who is responsible and when did it go missing?"
"Was this an accident or was it unlawful killing? It is not really its (the panel's) job to come to a conclusion."
Ms Hicks added: "This it is not the end for us. Depending on what the report says it could be the start of the next chapter."