Alder Hey Hospital's children's heart unit expansion challenge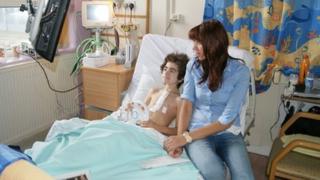 Is it a case of bigger is better when it comes to treating children with serious heart conditions?
The NHS is concentrating its expertise in paediatric heart surgery in just seven centres - including Alder Hey in Liverpool.
For many youngsters, the treatment can make the difference between life and death.
And the NHS hopes that by concentrating expertise in fewer centres, it will be more effective in helping youngsters with rarer heart conditions.
Paediatric cardiac surgeon Dr Prem Venugopal usually carries out two open-heart operations at the West Derby hospital each day.
He specialises in minimally invasive cardiac surgery, which lessens the size of the scar a patient is left with.
"The more operations you do, the better you become," he said.
"There are about four or five conditions which are only operated on in this country about 10 or 20 times each year.
"With fewer centres, these conditions get done more often."
'Push the boundaries'
After discussing his treatment for his rare heart condition, 12-year-old Christopher Green had one question for the surgeon.
"Am I going to die?"
Christopher, from St Helens, Merseyside, has spent months of his life in hospital care, having had several operations to correct a heart condition diagnosed weeks before he was born.
He was treated at Alder Hey when he was just days old, and is now under consultants of several disciplines, not only for his heart condition but also for respiratory problems and a rare disease that leads to bone breakdown.
His mother Michelle Green said the care given by the team was "exceptional".
"They have been so lovely to me at Alder Hey," she said.
"Dr Prem discussed the operation with us and my son said to him, 'Am I going to die?'
"But the cardiac liaison nurse said 'No, you won't die'.
"He was just really anxious. I was worried about the anaesthetic, but the anaesthetist came and had a chat with us and it was brilliant."
She added: "They give you the worst case scenario so that was frightening but he needed this operation, he needed to get ill to get better.
"He is under consultation for everything now and they are keeping an eye on things. He is getting better."
Alder Hey, one of the biggest children's hospitals in Europe, is one of seven in England which will continue performing heart operations on children after next year.
It was selected in a recent NHS review to become the only children's cardiac centre in the North West - a decision which means it can now grow in both capacity and expertise.
The NHS review - called Safe and Sustainable - concluded in July that care could be concentrated at fewer, larger sites to improve standards.
As a result, heart units at Leeds General Infirmary, Leicester's Glenfield Hospital and London's Royal Brompton will stop surgery.
Patients will have to use centres in Alder Hey, Great Ormond Street and Evelina Children's Hospital, both in London, Newcastle's Freeman Hospital, Birmingham Children's Hospital, the Royal Children's Hospital in Bristol or Southampton General.
The NHS review has not been met with support everywhere - in Leeds, for example, campaigners have mounted a legal challenge against the decision to close its heart surgery unit.
The Save Our Surgery campaign group has applied to the High Court for a judicial review into the move.
Alder Hey currently treats about 400-450 children for heart conditions each year, and is hoping to add more staff and more than 100 extra patients to that number.
Dr Venugopal said: "If we have more numbers, then we can branch out to work in our own areas of expertise.
"We will be given the space and flexibility to push the boundaries."