Merseyside police commend Dutch officers for Bradley and Downes arrests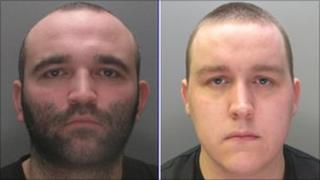 Eight Dutch police officers have been given commendations by Merseyside Police for capturing two criminals on the run in the Netherlands.
Kirk Bradley and Anthony Downes escaped from a prison van in Manchester while on trial in Liverpool in 2011.
The pair were convicted of firearms offences in their absence in March, before being arrested by Dutch police and extradited back to the UK.
Four Amsterdam Prosecutor's Office employees were also commended.
While on the run, both Bradley and Downes were found guilty at Woolwich Crown Court of conspiracy to possess firearms with intent to endanger life and conspiracy to cause damage with intent to endanger life.
Downes was captured in Goes, Zeeland, on 9 March and Bradley was detained on 5 April, in Amsterdam.
The men, who described themselves as "blood brothers" at trial, ran a criminal network between 2009 and 2010 which carried out shootings and operated on behalf of others in the Liverpool underworld.
Deputy Chief Constable Andy Ward said: "Thanks to the assistance and excellent police work carried out by the Dutch Police, two extremely violent and dangerous individuals are now behind bars serving life sentences.
"These two men brought fear and terror to communities on Merseyside through the threat of violence and the use of firearms and grenades."