Georgia Varley death: Christopher McGee, Merseyrail guard, blamed in court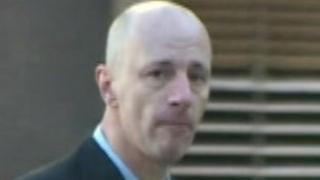 A Merseyrail guard charged with the manslaughter of a teenager at a station was the only person who could have prevented her death, a court has heard.
Georgia Varley, 16, from Wallasey, Wirral, died when she fell between the carriage and platform at Liverpool's James Street station in October 2011.
The city's crown court heard she was very drunk and had taken mephedrone.
Christopher McGee, 45, who gave the signal to start the train, denies manslaughter by gross negligence.
The court heard Georgia had been at a birthday party in Wirral and had travelled on the Merseyrail train into Liverpool before the incident happened at about 23:00 GMT on 22 October.
Opening the case, the prosecution said she had been drinking and had the drug mephedrone in her system.
The jury was shown CCTV footage of Georgia standing on the platform at James Street station with her hands on the train.
The footage then showed her falling as the train pulled away.
The prosecution said Mr McGee gave the signal to start the train when he could not have failed to realise Georgia was in contact with the train and was inebriated.
The court heard Mr McGee must have already known Georgia was drunk as he had seen her and a friend get off the train and back on again at Meols station, on the way to Liverpool.
The prosecution said he was the only person with the capability to prevent the situation which led to her death.
The jury heard Mr McGee told colleagues and the police he thought Georgia was moving away from the train when he gave the driver the signal to go.
But in his defence statement, he said it could be reasonably anticipated that she would move away as the train started to move.
The trial continues.