Tranmere Rovers' Wilfred Owen memorial field plan halted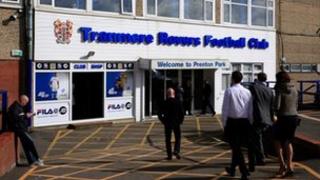 A football club's plans to build homes on land dedicated to World War I soldiers are being reviewed by the government.
Tranmere Rovers' application to build up to 90 houses on the Ingleborough Road memorial field was approved by Wirral Council last month.
But the decision could be "called in" by the Department for Communities and Local Government.
A spokesman for the department said the decision was being reviewed.
The DCLG said Secretary of State Eric Pickles was studying the application to decide whether to call it in for his personal attention after "an application from a third party".
A Wirral Council spokesman said it had not sent the application to the minister and it was possible the referral came form campaigners.
The proposal for the Ingleborough Road site has been opposed by campaigners.
The land was formerly part of Birkenhead Institute school and the fields and pavilion serve as a memorial to 88 former pupils, including poet Wilfred Owen, who lost their lives in World War I.
But plans for the new housing development at Ingleborough Road incorporate a dedicated, landscaped memorial area to the site to serve as a tribute to the pupils of Birkenhead Institute.
The council granted outline planning permission subject to conditions, including the club providing information about how it will fund the scheme.